Sunday, April 23, 2006
Some Sock Success and a pretty new bag & a new tee
Well I've been busy. My first sock is coming along very well. I spent a good portion of the day yesterday at knit group finishing the leg and heel flap and then last night turned the heel and picked up stitches for the gusset. This has been the best knitting learning experience. I did realize that when picking up the stitches on each side of the heel flap that I need to add more so that I don't have a nasty hole on each side. I'm going to rip back and repick up the stitches adding 2 to each side and then will k2tog when going in the round so that I am back at the patterns stitch number. I've thought about just leaving them as is and consider it a learning experience but no...I want perfection. What can I say? :)
An FO for you....with very crappy photos....um, can we say MACRO!
This is the Drawstring Bag from Last Minute Knitted Gifts. I knit it up with size 6 16" Addis and Blue Sky Alpaca & Silk in Natural. This is for my mom for Mother's Day...inside sits a lavendar sky soy candle travel tin by Warm Spirit. I hope she likes it!
My sweet SIL was kind enough to replace my existing favorite ratty tee with a new one...oh, a new sweet one at that:
I must get this one too:
You can find all the Grey's goodies
here
!
If you haven't been watching or knitting with Grey's, you must watch tonight for a 2 season refresher show. Then join the bandwagon.
Tuesday, April 18, 2006
Blast you wretched BLOGGER!
So I had this nice long post typed out, hit publish and Blogger when ape on me and ate my post! Blast!
I just got a call from the leader from the rescue that I work at. While I was there on Saturday we found out that we had a pregnant mama...I posted this in my last post. Well, we found out that the mama had been vaxed as soon as she entered the pound system and we had to abort her babies. Most, if not all would have been stillborn. She is really sick right now too...poor mama cat. It got me thinking...wow, feline vax (which we never give our cats) damage babies in utero...but some think nothing about giving their own children vax without research. Interesting.
On the knitting front...well, there hasn't been much going on at all. With this past weekend being so busy all I had time for was getting past the cuff on my sock...I'm not working on the leg portion and I'm hoping to turn the heel with help from this
online tutorial
. I did find out with help from my girls at
Knitty
that the reason I was having so many problems with my 1x1 ribbing was because I was purling the first stitch on my needle which was causing a yarnover. I rearranged my stitches so that the first stitch on each needle begins with a knit stitch and from then on it was smooth sailing. I only ripped the bad boy back 3 times and I think that's pretty darn good for your first sock! I can't wait to see what it looks like. I'm hoping my gauge stays right on or else I might have to either give these to Syd or send them to the Jolly Green Giant. I've never been much of a swatcher, but with socks you really have to be right on. :)
I have a big show for my biz tonight with another mama I know. We are combining our efforts to do mom's pampering nights/natural care seminars/earth expos. Tonight we are having a massage therapist come as well as several aestheticians to offer facials, waxing, manis and pedis. I will be doing sling and cloth diapering demos, breastfeeding advocacy presentations and showing off the 2006 HABA line. WOOHOO! I baked up some dark chocolate chip cookies and I'm looking forward to educating these new moms while they pamper themselves! :)
Saturday, April 15, 2006
yarn p*rn ahead...
So far today has been fantastic. I got up early and went in to my shift at
Rescue
. 2 of our precious kitties were adopted to their forever homes this week...sweet Zoya who originally came to us at a whopping 22 lbs and needed a complete shave because she was so matted and nasty...left at 12 lbs and with a beautiful, healthy coat. She is doing really well adapting to her new home. Our other adoption was Peanut. He was brought back to Rescue after an adopter moved and couldn't bring him with her. He was adopted out this week after only being back for a few weeks.
Today I worked the high maintenance room called Cheshire Cat. There are 8 cats boarded in there each in their own little room. Each one has to be cleaned out top to bottom twice a day, food and water bowls changed and washed, the entire room swept and mopped and all the walls disinfected. The bedding gets changed out, litter boxes scooped or replaced and cleaned and everything noted in each cat's file sheet. Some are on special diets and also some in this room need meds. I seem to get this room a lot on my rotation. I think because I don't mind giving the medication. One of our little ones needs .5ml of Prozac and another needs amino acids and vitamins daily. I don't mind. I love it. The "special" needs cats are a nice mix. A bonus to my shift was that I got to help the vet and our team leader with the blood work. We had several new cats in this week that were saved from the euth list at the East Side Pound so they all had to have blood drawn and Feline Leukemia and AIDS tests done. I loved helping out! It was awesome! We also found out during one of these testings that we saved a mama cat who is pregnant with kittens from the euth list. :)
In knitting news, I cast on AGAIN for the same sock. I hated the pattern I was using and also realized I feel much better knitting socks on 4 rather than 5 DPNs. So I frogged and started over. I found a super easy pattern online and I'm just going to go with it. I'm only a few rows in and I realized that I have a jog in my beginning stitch so I need to frog AGAIN and rework the rows. Hopefully I can get some of this done tonight.
I bought this the other day...luscious Vesper Sock Yarn from the dying queen at Knitterly Things....Julia....drool...I love this colorway appropriately named "Neopolitan".
We are off to IKEA in a few to get some storage stuff for Syd's room and a nice wooden table and chairs for her to color at. Can't wait. I heart those Swedish Meatballs. :)
Friday, April 14, 2006
who am i
So this made me chuckle today. My friend posted this on our ap board and I have to share. This is a conversation between her and her son today:
mom: who am I? I am yellow and I live on sesame street and I have a nest.
son: big bird!
mom: yes! your turn.

son: who am I? I am white and blue and green and pink.
mom: buzz lightyear
son: yes!

mom: who am I? I am green and furry, live in a garbage can, and I am always crabby.
son: ...Mama!

You know why this makes me laugh? Because I've been living in the garbage can a lot too lately. I've been so strung out and busy and tired that I've been nothing but a big grump. I need to snap out of it. I wonder what the buggernut would say if I had the same conversation with me. Most likely she wouldn't understand and would say...THE COUNT...ah-ah-ah and then start counting to 4. But, even still I see it in her when I am a grump. I need to be better with this. Look on the brighter side. If not for me, but for my little one.
Good lesson learned today. For that I am grateful.
On the knitting front. I cast on for my first pair of socks. I stopped frustrated after one row. I HATE DPN's. I think I want to learn on 2 circulars but I'm not sure where to start. I'm going to give it another go tomorrow if I have time and some peace and quiet (hahahahahaha....).
Thursday, April 13, 2006
Weebles Wobble
So quick post tonight because I have me a date with Colin Firth. Yes, THE Colin Firth. He's in my living room now waiting on me so I must be brief.
Today was tres stressful. The buggernut had more tantrums than I can count. The worst one was when we were in the book/toy aisle at Once Upon A Child. I was sorting through piles of germ covered reading material when the bug spotted what must have looked to her like the highlight of her past 2 years. Weebleville. Yes, Weebles. Those nasty little rolly people that never fall down. Not only did Weebleville make music but it also had all these lovely spinning pieces. Let's just say the buggernut was workin' it like Michael Jackson in the Thriller video. She LOVED it. But alas, being the mean ole mom that I am, I was not going to allow one more piece of plastic crap toy into the house...especially since next month is her 2nd birthday in which we will be blessed with lots of crappy plastic toys. I did try to negotiate with brand new Madeline books and toddler sunglasses but that was just not enough. She wanted Spinning Weeble-hell. This prompted the tantrum from Hades. Honestly, I used to look at moms and their kids in stores when their child was laying on the floor screaming and thought....oh, please, that will NEVER be me. Boy does God have a sense of humor.
In knitting news, I'm almost done with the baby hat. The Kashmir DK by Trendsetter ended up working up nicely after I hacked off half the skein because apparently on Trendsetter yarn skeins, you pull from the outside NOT the inside. Yeah. Well. Lesson learned.
Must go. Really Colin IS waiting. In DVD form. Disc 1 of A & E Pride & Prejudice arrived today via Netflix. What's better than a quiet house and a little eye candy. What, what.
Wednesday, April 12, 2006
One down...a million more to go...
So it was a decently productive morning around Chez 'wannabe'. 2 loads of laundry, the entire kitchen was cleaned including the floor, beds made, cats fed, vacuumed, straightened the entire joint up and went thru all of Syd's grown out clothes and sorted into bags to take to Once Upon A Child. I'm feeling pretty darn good about all of that.
I was surprised how hard it was to part with Syd's stuff. I mean they are JUST clothes but as I pulled each thing out I thought about a time when she wore it and how cute she looked. I saved a Rubbermaid full of stuff that I just couldn't part with...all of the outfits she had her pics taken in, her velvet trench from
Auntie Sara
, her first tennies etc etc. The kid has more clothes than I ever owned in my entire life. I'm not sure why the heck I have gotten so sobby about things like this lately...no, I'm SO not pregnant so don't even go there. :)
In Knitting Knews...Debbie Bliss Baby Cashmerino sucks a duck. I was making the Umbilical Cord Hat from Stitch N Bitch for my SIL and the whole thing split during the decreases. It really got my panties in a wad because I was on the next to last decrease. DRAT! So, I went with one of my most special friends to the local LYS and picked up a skein of Kashmir hoping that the braid-type strand won't split on me.
Current WIPs....a laceweight summer scarf in
Rowan Kidsilk Haze in 585Nightly
for the MIL for Mother's Day, a pair of SOCKS...yes, socks in Skip One, Purl Too Handdyed wool in a turquoise colorway, and a cotton candy pink
Sophie bag
which I'm hoping to find the perfect vintage pin to add to it after it's felted. Pics to follow.
Off to clean the Buggernut up from lunch and then naptime...ahhhhhh.....
Tuesday, April 11, 2006
Looking back...
So I've got this issue. Pictures. They are everywhere and sooo disorganized. I have boxes and boxes of them under the bed, in the bookcase...pretty much anywhere they aren't suppossed to be...they are. This is NOT my strong suit. When people say...oh, Mand, you are the most organized person I know...clearly they are not considering my picture hording issues.
I bought some of those cutesy picture organizers a few months back. Yeah, well my best intentions rarely come to fruition...so I'm thinking...what can I do with all these fond memories as I'm forcing myself to sort at least a few minutes a day...well, why not share some. So that's what I'm gonna be doing. Once a week will be Picture Day. I'll be sharing a few of my favorite photos that I've sorted thru the previous week. I know what you're thinking...Mand, you'll run out eventually. Listen, we have at least 3-4 years worth of weekly postings hangin' around here so no worrying your little selves about that! :)
Showcase 1: Summer of 2001 in Cape Cod
Sara, Rich, Bri and I all went to Cape Cod in August of 01. It was the most amazing vacation. What could be better than going to one of your favorite places on earth with 2 of your favorite people on earth? Well, pretty much nothing can top that one.
We stayed in a really sweet cottage at a bed & breakfast and spent our days at all of our favorite places...the beach, Nantucket, Christmas Tree Shops, eating tons of fried clams, salt water taffy and Friendly's sundaes, listening to the Runaway Bride soundtrack and Tom Petty over and over and over again (remember
Sar
?), smelling the salt air and making lasting memories. I will NEVER forget that summer. It was only a few weeks before 9/11...when the world seemed to be a safer, more carefree place...at least that's how I felt that sweet summer.
Nantucket chairs outside our B & B: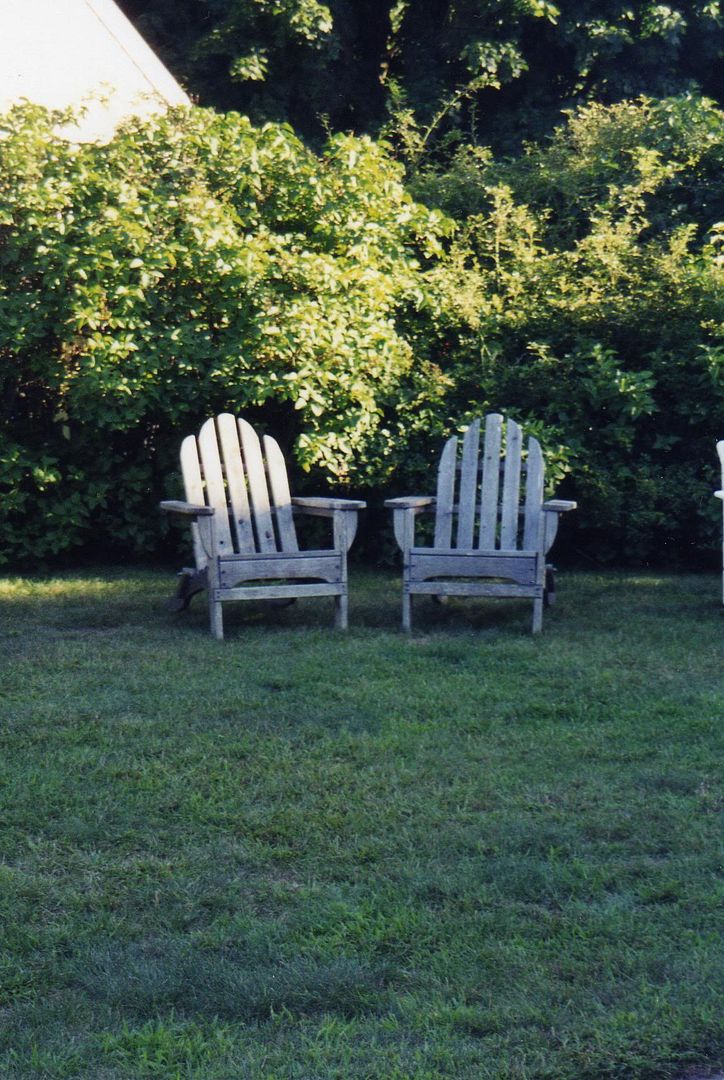 Bri on the beach outside a really nice place we went for dinner one night:
Sara and Rich waiting for our sunset yacht...I love this picture of them:
Me being...well, me-ish on the yacht:
Sara and I inside a cafe we went for lunch on Nantucket: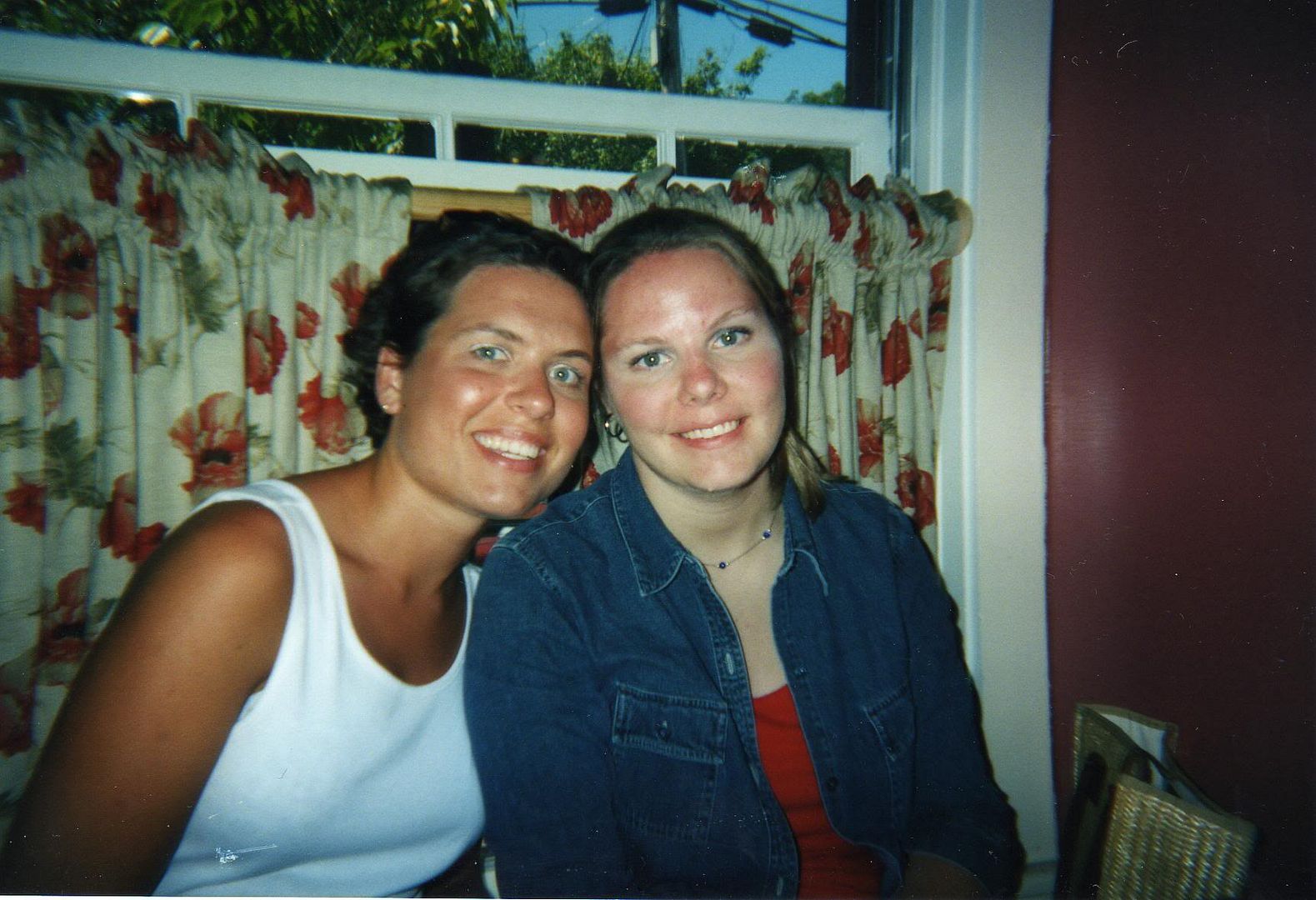 Friday, April 7, 2006
Sunshine Goodness
I love good mail days. I received a few skeins of
Sunshine Yarns
today. I've been drooling over this yarn for months and finally took the plunge and ordered some. Wanna see what I got?
This is Taos sock yarn. Yes, I am a sock virgin but I plan on learning very soon...I have the itch to handknit socks. This will be what I use for my first pair!
This is Denim Worsted. This will be made into a hat from Last Minute Knitted Gifts. I'm substituting this for Manos that the pattern calls for...I think it will be delish...I promised the Mr. that I would make him something soon...so this is it! Of course, he's going to have to wait a full 8 months to wear it...
In other knitting news, I joined the
One Skein Secret Pal swap
today. I'm rubbing my hands together in anticipation...what's better than a skein of yarn that miraculously appears in your mailbox when you least expect it!
Thursday, April 6, 2006
Howie you can make my day...anyday
OMG! I discovered someone new. Oh so new...and oh so....who? You ask who?
Well
Howie Day
, of course and let me tell you...did we ever
Collide
!
Grrrrr.....the new love of my life...please, I beg you...download this song. HOT! Well and he's not so bad either! :)
Anyone for some Pie?
Dena aka Pie from Vegas came to visit the APU girls this past weekend. I met Dena online almost 6 years ago at Mothering.com and finally after all this time got to meet her IRL! It was night filled with fun, fantastic food and lots of girly time...starting with Mikael and I getting our piercings..woohoo...and followed by an absolutely amazing dinner at
Fate
.
Here are some of our photos from the night...I love you girlies!
The infamous Mamapie!
Me flashing the girls with my hot suede Mary Janes!
Christy aka The Naughty Snow White
Terri...my fellow knitter...in her hot vintage dress!
And last but not least...my sweet, sweet friend, Mikael and I!
Tuesday, April 4, 2006
I missed it...how did I miss it...
Remember when you were little and you dreaded April Fools Day because you knew that inevitably SOMETHING or SOMEONE was going to get you? Well, it seems the fear has passed me...I totally forgot this year. Darn it. I could think of a list a mile long that my dh would have totally fell for...and I MISSED it. Blast.
Saturday, April 1, 2006
Looking at the changes...
Well many changes around here. Syd is starting to potty train, I'm back volunteering at
AZ Rescue
, and I bought myself a little something last night...wanna see?
Click for a close up!
My iPod Meme
Thanks to
Logorrhea
...okay why does the name of that blog always make me think of dia...really?
Here goes...I shuffled my "trusty, dusty, barely gets used but I had to have it" iPod today and here was my first 10 in order:
Humans Being - Van Halen
King of Pain - The Police
Babylon II - David Gray
Destination Unknown - Marietta (from the Top Gun Soundtrack! What, what!)
Talk - Coldplay
I Need to Know - Tom Petty & The Heartbreakers
Laura - Scissor Sisters
Addicted - Kelly Clarkson
Some Kind of Wonderful - Joss Stone
I'll See It Through - Texas (from Love Actually Soundtrack)